Happy Birthday
Latest topics
»
Inspirational Quotes
by
President Roosevelt
Mon Aug 14, 2017 4:08 pm
»
Stay Positive with Sparkle
by
Evie
Mon Aug 14, 2017 1:16 am
»
What do you think about power places?
by
Night Eyes
Wed Aug 02, 2017 7:34 am
»
13 Things You Should Give Up If You Want To Be Successful
by
Night Eyes
Mon Jul 31, 2017 11:44 am
»
Shine's Genie
by
kazoo
Mon Jul 31, 2017 7:46 am
»
Question time.
by
Luney
Sun Jul 30, 2017 9:17 pm
»
What Good Things Happened to You Today?
by
Evie
Sun Jul 30, 2017 3:03 am
»
What do you want to manifest this month?
by
kazoo
Sat Jul 29, 2017 8:24 am
»
Ever feel like Belle?
by
kazoo
Sat Jul 29, 2017 8:15 am
»
'5 Secrets to Wu Wei'
by
LittlemissSunshine
Thu Jul 27, 2017 7:27 am
»
Learning to Trust the Universe
by
Night Eyes
Thu Jul 27, 2017 1:34 am
»
I am grateful for...
by
Evie
Mon Jul 24, 2017 2:47 pm
»
The Daily Thich Nhat Hanh
by
Evie
Mon Jul 24, 2017 7:36 am
»
The Giggle Thread
by
Evie
Mon Jul 24, 2017 7:10 am
»
How is Everyone?
by
Night Eyes
Wed Jul 19, 2017 3:38 pm
»
Introduce yourself
by
Luney
Fri Jul 14, 2017 8:06 pm
»
Positive Affirmations
by
Luney
Fri Jul 07, 2017 8:53 pm
»
Shiny, Pretty, Happy Things
by
Night Eyes
Tue Jun 27, 2017 2:59 am
»
Positivity app
by
Night Eyes
Mon Jun 26, 2017 2:35 am
»
Cleaning home from negative energies
by
kazoo
Fri Jun 16, 2017 9:06 am
»
Share your Recipes
by
Luney
Sun May 07, 2017 6:39 pm
»
Inspiring Videos
by
Evie
Sun Apr 23, 2017 3:09 am
»
Depression
by
Night Eyes
Sat Apr 22, 2017 3:46 am
August 2017
| Mon | Tue | Wed | Thu | Fri | Sat | Sun |
| --- | --- | --- | --- | --- | --- | --- |
| | 1 | 2 | 3 | 4 | 5 | 6 |
| 7 | 8 | 9 | 10 | 11 | 12 | 13 |
| 14 | 15 | 16 | 17 | 18 | 19 | 20 |
| 21 | 22 | 23 | 24 | 25 | 26 | 27 |
| 28 | 29 | 30 | 31 | | | |
Calendar
Top posting users this week
What do you think about
this post
?
For me everything clicked when I read it. I realized that, until a few months ago, every time I wanted to move to a new place it was because it had something I wanted (be it university or a more developed industry in a field that interests me), not because I was actually excited by the place per-se.
That changed now though. I have a new place in mind and it's there because I am super drawn to it. In fact, I was always drawn to the country as a whole (although the gun laws  scared me until I realized that everybody has to pass some tests until they own a gun, haha) and the city has everything I could ever dream of and I think I'll blend in really nicely.
I could have a career anywhere, as my skills aren't location dependent anymore, but I absolutely love that place and this time I really feel like I have to chase my dream of living there!
Shimmering





Posts

: 105


Points

: 372


Thanks

: 263


Join date

: 2016-06-18


Age

: 19



I know how you feel about places drm0! I am the same. There are just some special places in the world that I feel especially drawn to, though I'll admit there are very many of them. Italy, Austria, Switzerland, Oxford......
Would you like to tell us more about your new place, or do you prefer to keep it more to yourself for now as your secret dream?

I feel like that sometimes - like not telling people so I don't jinx myself or something.

_________________
"The mind can go in a thousand directions, but on this beautiful path, I walk in peace. With each step, the wind blows. With each step, a flower blooms." - Thich Nhat Hanh
Radiant





Posts

: 1272


Points

: 3127


Thanks

: 1553


Join date

: 2016-05-11



Many people already know, so why not? It's Los Angeles and I already have wallpapers that are L.A. themed on my phone and on my PC! I'm also checking the rental offers and watching lots of apartment tours on YouTube!
Talking about it, seeing it through my PC and constantly dreaming about moving there makes me feel happy and makes the whole "live as if it already happened" thing way easier!

At the same time, I'm trying to let everything happen naturally if it's meant to be by saying "Your will be done" quite often as I think it should put my at ease and let the Universe do its job.

Shimmering





Posts

: 105


Points

: 372


Thanks

: 263


Join date

: 2016-06-18


Age

: 19



I think this article is very true, I have had many such cases where like the author says they haven't really thought about moving somewhere or even visiting, but once they do or meet someone from there, they feel some very special bond with either people or places and long to go back or live there.
I've had a strong pull to live in a country with no logical reason feeling only with Spain. In high school I became very fascinated with the language and all I could think of was moving there. I almost failed my final year because I was so passionate about it I couldn't concentrate on studies lol.
I did end up living there and I still love the culture and the language.
Because I was very disappointed in Paris and France in general I assumed London is just another dirty city just like it and had no desire to visit. But I made some English friends in Estonia that kept asking me to visit, I always politely refused. Then one day, I was reading some Wayne Dyer LOA book and practiced a ritual from there, it lifted my vibration so high I was ecstatic (not expecting or thinking of any goals or moving anywhere at that point). The next moment my phone rings and one of these friends that I hadn't heard from in almost a year is calling to see how I'm doing, then invites me over and offers to pay for my ticket. I was in such high, I just said hey what the heck. Sure, I'll come.
When I visited I was in awe, I loved everything, I loved the English countryside, I loved London, I loved the people, I just longed to get back as fast as possible. On my way there I sat next to a girl that I swapped contacts with and is still one of my dearest friends 15 years later. Actually in the future I played a huge roll in her meeting her husband and moving to England, so it's so funny how it becomes a domino effect where one thing leads to another.
On my way back I was sharing plane seat with a Canadian lady that happened to be extremely into LOA and we were friends years after. As soon as I walked in from my home door, the phone was ringing and it was Ryanair asking me to go for a job interview. Apparently my mom had meanwhile without me knowing applied for me to become a Ryanair cabin crew living in London. They chose 300 people from 30 000 applicants and after interviews chose the final 30. I was one of the 30 and there was another girl I got along with really well. We discovered while waiting for the final interview that we actually come from villages only 5 km apart and my cousin's father is married to her sister. We had never met before but both our families knew each other. Eventually we both ended up ditching the Ryanair plan and just flew to London together. We are still friends and talk all the time.
Sorry for the long rant

I was just wondering how funny it is how your life seems to be so motionless and stagnant for a long long period of time, but once you raise your vibration with no expectations and something happens, suddenly everything changes. They don't call it
surfing on the leading edge
for nothing

And awwww LA, so many memories. I was never drawn to US, never thought about visiting or living here, it just always seemed like some closed place. Once again, same story (and you know what, thanks for reminding me I just realized the
exact same
thing happened) - I
consciously
raised my vibration extremely high and met a person next day that invited me to LA and half a year later I thought, what the heck, why not. I actually only met that person for dinner once withing the week I was in LA, but that was just the carrot in front of donkey's nose. I was meant to be brought there and wonder around on my own, because I met my future husband there and the rest is history

I really loved LA, especially the Santa Monica area. My husband was born in LA actually and lived most of his life there.
Haha, guns, actually no, you don't need to pass any tests to own a gun, everyone has guns here - my neighbors, my in laws, we do, everyone does. You only need to pass tests to get a carry on license, meaning you can physically carry it on your body with you.
They sell guns in Walmart too. I used to live right next to this place in Texas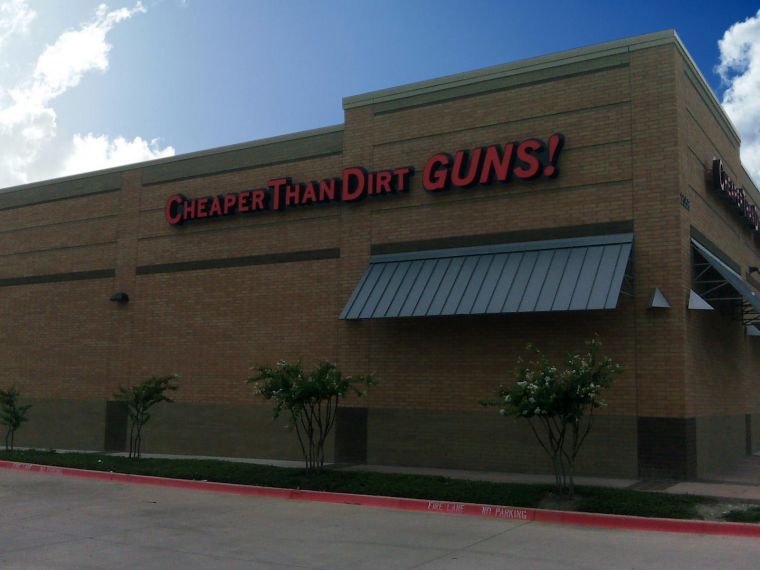 But honestly, don't worry, the chances of you getting shot or even coming close to some gun situation are extremely minimal. I trust you are not planning to go wonder around in some weird LA ghetto areas and if you think about it the other way, it's safer because the criminals are more reluctant to mug you or break into your house, because they know they can easily get shot (and you don't even have to get a gun, they won't know if you have one or not).
It really reminds me of when I was planning my trip to Australia, all my UK friends were saying "OMG, I would never dare to go there, all the dangerous creepy crawlies, spiders, snakes, sharks, crocs --- waaaaay to dangerous!!" and when I got to Australia, all the people there were saying "OMG you live in London, SO dangerous, all the terrorists and muslims living there, oh you are so brave.. I would never dare...".
In reality yes there is danger everywhere, in every country, in every situation.
Don't let your fears stop you from going after your dreams!
Radiant





Posts

: 526


Points

: 1476


Thanks

: 894


Join date

: 2016-04-30


Age

: 35


Location

: Florida



That's how I feel about London.  I can't wait to get back there!  
Re: US gun laws...don't let that freak you out.  It's really not the way you think.  The US is a gigantic country and the gun laws vary greatly from state to state.  Yes, you'll find some areas where everyone owns a gun and in those places the crime rate is usually actually quite low.
I live in a state where gun ownership as that common and the gun laws are very strict.  Again, it varies.  Most people I know don't own a gun and don't think about owning one. It's just really not much of a thing for us.   
Of course there are sections of some major cities where I wouldn't ever go.  But that's not unique to the US-a lot of big cities have dangerous areas. You just have to be smart.
Los Angeles is a really lovely city with an amazing history.  It's a huge city (you'll need a car!) and most of the city is actually quite safe, so please don't worry about any of that or let that deter you if it's your dream to live there.  
When I think of LA I think of sunshine, the ocean, palm trees and especially old Hollywood glamour!

Definitely dream worthy!
Glowing





Posts

: 92


Points

: 307


Thanks

: 207


Join date

: 2016-07-07



The only place I have a strong pull to is Cornwall, not sure why but I feel like I belong there.
Otherwise i'm not sure if there is anywhere else that has that lure for me, I'd love to go to Italy but more because I want to do all the touristy things and it looks awesome, not because there's a spiritual pull or anything... but I'm completely open to the thought that there are other Power places for me

I always have some pull to southern England (don't tell anyone as i'm Welsh this is not something we would admit hehe)
Radiant





Posts

: 958


Points

: 2472


Thanks

: 1368


Join date

: 2016-04-29


Age

: 36


Location

: Wales




Similar topics
---
Permissions in this forum:
You
cannot
reply to topics in this forum