Happy Birthday
Latest topics
»
Inspirational Quotes
by
President Roosevelt
Mon Aug 14, 2017 10:08 pm
»
Stay Positive with Sparkle
by
Evie
Mon Aug 14, 2017 7:16 am
»
What do you think about power places?
by
Night Eyes
Wed Aug 02, 2017 1:34 pm
»
13 Things You Should Give Up If You Want To Be Successful
by
Night Eyes
Mon Jul 31, 2017 5:44 pm
»
Shine's Genie
by
kazoo
Mon Jul 31, 2017 1:46 pm
»
Question time.
by
Luney
Mon Jul 31, 2017 3:17 am
»
What Good Things Happened to You Today?
by
Evie
Sun Jul 30, 2017 9:03 am
»
What do you want to manifest this month?
by
kazoo
Sat Jul 29, 2017 2:24 pm
»
Ever feel like Belle?
by
kazoo
Sat Jul 29, 2017 2:15 pm
»
'5 Secrets to Wu Wei'
by
LittlemissSunshine
Thu Jul 27, 2017 1:27 pm
»
Learning to Trust the Universe
by
Night Eyes
Thu Jul 27, 2017 7:34 am
»
I am grateful for...
by
Evie
Mon Jul 24, 2017 8:47 pm
»
The Daily Thich Nhat Hanh
by
Evie
Mon Jul 24, 2017 1:36 pm
»
The Giggle Thread
by
Evie
Mon Jul 24, 2017 1:10 pm
»
How is Everyone?
by
Night Eyes
Wed Jul 19, 2017 9:38 pm
»
Introduce yourself
by
Luney
Sat Jul 15, 2017 2:06 am
»
Positive Affirmations
by
Luney
Sat Jul 08, 2017 2:53 am
»
Shiny, Pretty, Happy Things
by
Night Eyes
Tue Jun 27, 2017 8:59 am
»
Positivity app
by
Night Eyes
Mon Jun 26, 2017 8:35 am
»
Cleaning home from negative energies
by
kazoo
Fri Jun 16, 2017 3:06 pm
»
Share your Recipes
by
Luney
Mon May 08, 2017 12:39 am
»
Inspiring Videos
by
Evie
Sun Apr 23, 2017 9:09 am
»
Depression
by
Night Eyes
Sat Apr 22, 2017 9:46 am
August 2017
| Mon | Tue | Wed | Thu | Fri | Sat | Sun |
| --- | --- | --- | --- | --- | --- | --- |
| | 1 | 2 | 3 | 4 | 5 | 6 |
| 7 | 8 | 9 | 10 | 11 | 12 | 13 |
| 14 | 15 | 16 | 17 | 18 | 19 | 20 |
| 21 | 22 | 23 | 24 | 25 | 26 | 27 |
| 28 | 29 | 30 | 31 | | | |
Calendar
Top posting users this week
Page 2 of 2 •

1, 2
Such an interesting discussion!  Lol, I don't think I should ever check out the discussions on Goodreads.  I'd get so involved that I'd never be able to leave my computer!

I do see Ashley's love for Melanie going beyond being brotherly or as a companion type.  It's one of deep understanding and shared idealism.  There is a scene at the barbecue that is meant to convey this: they discuss how that Twelve Oaks was seemingly imagined just for Melanie and how not even a Civil War could invade the world that they created together and shared.  They were both dreamers who shared the same dreams.  Scarlett could never live in that dream world with him.  She was much too pragmatic and simply didn't have time or the inclination for silly dreams.

The scene you mention where Scarlett confesses her feelings what I see the look he is giving her as one of physical desire.  Other than that he's his usual wishy-washy self...UNTIL Scarlett insults Melanie.  Then he gets fired up.  Very telling.  It might be the only time we see any kind of real passion from him at all in the movie.  Some behind the scenes trivia: Leslie Howard-who played Ashley- really didn't want to be in the film.  It took a side deal with an agreement for him to be in some other movies that he actually wanted to make to get him to take the role.  So he didn't really give the role his best effort.  It actually works as far as the character goes.  He didn't have to do much other than be a bore. (And it also explains why Southern gentleman Ashley has an English accent, lol.)

I see Ashley's interest in Scareltt as definitely based on a strong physical attraction.  As a weak man he sees her as the strong "bad girl" and he knows they are all wrong for each other so he can't really go there but he still desires her.  As the older and wiser one he knew he couldn't make her happy and he wouldn't really be happy if they actually were together either so it was better to let the tension that surrounds a "what if" and "if only" situation linger so he could still have a hold on her in some way.  

Since you bring up male psychology, I had a thought about another element that might play a part in Ashley leaving Scarlett hanging.  Ashley is a weak man and really can't compete with other men in any area of his life but somehow he managed to win the heart of the woman who every other man wanted.  Part of the ego boost must have also come from the fact that in a competition with Rhett- the very picture of manliness (or at least what passed for it at the time...) - Ashley won when it came to Scarlett's affections.

Thanks so much for sharing your thoughts and observations!  It's definitely gotten me thinking about a lot of the nuances presented in the story.  I really don't think there ever really could be a consensus about the characters real feelings when they spend much of the story unsure themselves.  When you consider all of the different "types" of love involved and as we've discussed the characters spend a lot of time hiding and denying their feelings to themselves and each other.  But isn't that just like real life?
I love your analysis kazoo. I guess I see Ashley as having "true" feelings for Scarlett mainly because I am a romantic sop -- reminds me of how I have always thought that Beatrice and Benedick in
Much Ado About Nothing
really loved each other long before their friends "tricked" them into doing so, even when they were simply constantly at each other's throats....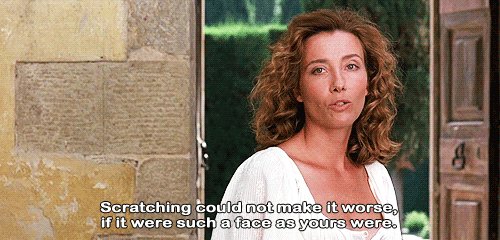 Guess I'm a not-so-secret sentimentalist. Also, my view of romantic love has always been predicated a great deal on physical passion - while I know romantic love can exist without any storminess or huge physical passion, I think I'm not so good at recognising or understanding it unless it has a passionate side. (I guess I just read too many Bronte novels, The English Patient, things like that when my concept of love was being formed.) So while some people may dismiss what is going on between Beatrice and Benedick before they supposedly "fall in love" as mere sexual tension, I'd say their feelings are already there, albeit at a level they can't yet access, buried deep down inside. Same goes for Ashley -- deep down I think he has pretty strong feelings for Scarlett, and that's why he is so cut about not being able to say yes.
I don't have time to write a proper reply, but I glanced at a Goodreads thread about GWTW again for the first time in ages, and thought I should link it:
http://www.goodreads.com/topic/show/1302719-does-ashley-love-scarlett-does-he-love-melanie
. What was between Ashley and Scarlett certainly invites lots of different interpretations. Most people in that thread make some really good points, but at the moment I particularly appreciate Joseph's reply:
"I think Ashley loves Melanie just as much as Scarlett but is smitten by Scarlett as well. Love is such a loose term. It means different things to different people. Unlike other people I know, I believe we can love 2 people at the same time - just with different levels of intensity and for different reasons, as voiced by others on this thread."
I also came across this blog post -
http://hillplace.blogspot.com.au/2012/12/passion-and-indifference-rhett-butler.html
and this question - "Does Melanie know of Scarlett's and Ashley's feelings for each other?"
https://answers.yahoo.com/question/index?qid=20090111192347AAyBb3C
which I find interesting.
Love this thread.

Radiant





Posts

: 1272


Points

: 3127


Thanks

: 1553


Join date

: 2016-05-12



Thanks for sharing all of that Evie!  Lots of interesting stuff there!

I suppose to not be so hard on Ashley and to give him the benefit of the doubt, I suppose we could say that he was confused and conflicted as well.  He knows that he shares something deep and special with Melanie but at the same time can't help himself when it comes to Scarlett.  Not only is Scarlett everything HE is not, she also possesses many attractive qualities that Melanie does not.  

But the Romantic in ME wants to root for Melanie and Ashley as a couple.  (Mostly because I care about Melanie, not for Ashley's sake.)  I can understand that any man, even one completely in love with the most amazing partner, could still be physically attracted to another woman.  But if Ashley had feelings that ran deeper than that, to me that would be more of a betrayal than Rhett seeking out Belle after Scarlett turned him away.  

I see all cheating as bad but emotional betrayal- even if it doesn't ever go to a physical level- to me is worse than physical cheating with no emotions involved.  I don't want to think about it but I suppose I'd rather hear that my guy had a meaningless fling than that he was deeply in love with another woman the whole time we were together.  Make sense?

I also think that if Ashley really does love Scarlett it kinda makes Melanie look like a fool and I don't want to think of her that way.  For her to just stand by and be a true sister to Scarlett all while Ashley and Scarlett were in love and basically emotionally cheating?  Melanie was good hearted, but not foolish.

And just like I am rooting for Ashley and Melanie as a couple, I'm rooting for Scarlett and Rhett.  I just think that they both met their match in the other and they are meant to be together.  Which is why I want to believe that Scarlett really wasn't in love with Ashley at all but actually in love with Rhett but just didn't realize it til the end.  

I just want to write off her infatuation with Ashley as a vestige of her childhood, a girlish, idealized, fantasy that she held onto for way too long.  It actually kinda makes sense.  It really was the ONE thing (along with Tara) from her childhood/youth that she COULD hold on to. Everything else was gone, everything else had changed.  So I am sure she took some sort of comfort in her feelings for Ashley because of that.
I dont think Ashley was into Scarlett at all, I think he loved Melanie but was getting an ego boost with the most popular girl being obsessed with him.


I think for Scarlett, maybe Ashley was a challenge and possibly her 'one that got away' . We all know what its like when we cant have what we want, when someone pushes us away or isnt interested for some reason it makes us want them more.
Radiant





Posts

: 958


Points

: 2472


Thanks

: 1368


Join date

: 2016-04-29


Age

: 36


Location

: Wales



Just stopping by quickly to say hello from lovely Atlanta and post about a book I found in a gift shop!
Scarlett Rules: When Life Gives You Green Velvet Curtains, Make a Green Velvet Dress
http://www.goodreads.com/book/show/109792.Scarlett_Rules
Love it!!
Of course I bought a copy! I'm sure I'll have more to say about it when I get a chance to read it!
@kazoo

wrote:Just stopping by quickly to say hello from lovely Atlanta and post about a book I found in a gift shop!

Scarlett Rules: When Life Gives You Green Velvet Curtains, Make a Green Velvet Dress

http://www.goodreads.com/book/show/109792.Scarlett_Rules

Love it!!

Of course I bought a copy! I'm sure I'll have more to say about it when I get a chance to read it!
I clicked on the link and below was an ad for a book called "Finding Mr. Brightside". Is the Universe trying to say he's gone missing? lol

Top Dog





Posts

: 140


Points

: 490


Thanks

: 330


Join date

: 2016-05-16


Age

: 24


Location

: Chicago



Just thought I'd post a quick update here. I have been back from my trip and we didn't even make it halfway thru the audio book on the long drive! I am continuing to listen to is tho and I'm glad I am because it's been a few years since I've read the book and there was more there that I forgot than I realized.

It did remind me of some of the things I admired about Scarlett, despite all of her shortcomings. As I've mentioned before, she is very pragmatic and practical, ruled by common sense. When their whole world collapsed it is noted that almost all of the people around her remained stuck in the past while Scarlett accepted the new circumstances, made the best of them and thrived. I admire that. Being stuck in the past and constantly questioning "what if" doesn't help anyone.

I also like that I got some reminders of the development of the various relationships. I didn't remember it, but the book states that Scarlett fell in love with Ashley when she was only 14. It explains a lot.

And there were a few indications of the feelings that Scarlett doesn't know she has for Rhett. She thinks about how Rhett makes her feel when he visits for example. She identifies those feelings-that excitement- as being almost like she's in love with him and then dismisses the idea! It's amazing how we can fool ourselves.

I haven't had a chance to really dig into the other book yet, I'll comment about it when I get a chance.

I have some ideas of comparing GWTW to two of my other favorite shows...I might bring that up when I have a chance to develop the ideas further.
Great to hear you've been having a great GWTW time, Kazoo... just wanted to drop a note that as soon as I have a deadline-free period in December I will finally read it cover to cover and get back to you for more discussion.

xx

_________________
"The mind can go in a thousand directions, but on this beautiful path, I walk in peace. With each step, the wind blows. With each step, a flower blooms." - Thich Nhat Hanh
Radiant





Posts

: 1272


Points

: 3127


Thanks

: 1553


Join date

: 2016-05-12



Page 2 of 2 •

1, 2

Similar topics
---
Permissions in this forum:
You
cannot
reply to topics in this forum